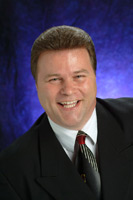 Jerry Waldrop was born and raised in the shrinking farm community of Suffield, Ohio Jerry attended the same school as his dad, which his children also attended. Gospel music is the main stay in the family going back to Fayette, Alabama where his great grandfather led music in church and grandmother played the pump organ. They taught Shape notes and Jerry attended several years of classes with Bill Echoels and learned the time-honored way of reading and singing music. The Songsters Quartet practiced at the Waldrop home for many years and the kids would sit on the steps listening while the arrangements for songs were worked on and the different singers were trained. Jerry accepted the Lord in his heart at the tender age of 8 at their home church the Akron Baptist Temple. The pastor and founder of ABT Dr. Dallas F. Billington use to call Jerry his little preacher boy. At the age of 14, Jerry accepted the calling of the Lord to Gospel music. For his 15th birthday he received his first bass guitar. 7 months later Jerry joined the Songsters Qt. playing that bass guitar for his Savior beginning his service for the Lord. Jerry's dad was a deeply spiritual man and was his mentor in both music and following Christ. They became best friends and served side by side for 22 years. Jerry's dad was also a diesel mechanic by trade and their bonds grew strong working together in the Songsters and on the buses the group traveled in. Two buses 51 TDM GMC and 55 VL100 Flxible Jerry converted the interior himself. In Jan of 1996 Jerry's dad was promoted to Glory and in late October that year after much prayer Jerry took the reigns of the Songsters Quartet. Jerry has a passion for the Lord's service and his desire is that this ministry would bare much fruit for the master. This has taken the steps of broadening the bounds for the Songsters and shaking door knobs and asking the Lord to keep the doors closed He does not want the group to go through and open wide the doors He will allow the Songsters to step through. Jerry says each step takes much prayer and a tender heart to hear and follow the Lords leading.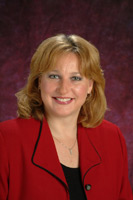 Sharon Waldrop has an identical twin sister Karen; they are best of friends and still have that genuine joy of life and a contagious laughter. They continue to be very close even though they are now divided by many states. Sharon met Jerry II on a blind date set up by her twin sister and friend, Jerry II jokes about not knowing that Sharon could sing for the first two years of their marriage. Sharon was quiet and did not want to be in the forefront. Then in June of 1981 Sharon's love for the Lord and appreciation of southern gospel music prompted her to take a step of faith. The Songsters Quartet was in need of a singer for the high tenor/alto part, they had auditioned many singers but no one seemed to be right. Sharon remembers one particular time when she was in prayer petitioning the Lord to bring the right person to the group, then she felt a leading of the Holy Spirit to sing. This prompting scared Sharon because the last time she sang in front of a congregation at church was when she was in Junior high choir. Sharon prayed even harder to make sure of what the Lord was impressing on her to do, knowing this was God's calling she went to Jerry Sr. and talked to him about what was on her heart. They prayed together and talked about how difficult this would be. Jerry Sr. explained this is more than singing you are ministering in song. They went to work on Sharon's vocal range and ear for harmony. As the first practice went by you could see that God had truly blessed Sharon with a beautiful voice and talent. The training to learn to sing the tenor part in a quartet took determination, study and hard work. During all of this time Sharon raised her family, kept the house and worked a full time job of 40 hours a week (except during the early formative years of the children). Sharon and Jerry II made a commitment that Sharon would be a stay at home mom until the kids were all in school and well adjusted, then Sharon took a job at the school and moved on from there. Sharon has stood the test of time and has a heart of gold in serving the Lord. She has given her all to serve the Lord, while singing for God on the weekends Sharon and Jerry II raised their three children in the love on admonition of the Lord; each are also serving the Lord. The girls and their husband's serve as Youth group leaders, Christian camp councilors and administrators, their son loves Apologetics and all three sing wonderfully. This is just a quick snap shot of Sharon's life and falls short of who she is, how much she loves God, cares for her family and that her drive is to see souls come to the saving knowledge of Jesus Christ.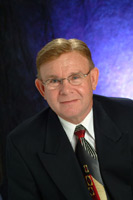 Larry Counterman was born in Coldwater MI, on June 19, 19?? It was a modern hospital, but our home was as country as they come.
I went to a one room schoolhouse and literally had to walk 1.5 miles just to get there. We lived in an old farm house that only had an outhouse. When he was 13 years old, he started singing. After high school, he was drafted into the US Army for two years. After his stint in the Army, he pastored a church and sang with 3 local groups in Michigan, which kept him very busy. On November 24, 1976, he married his sweetheart Cindy. They were blessed with five children (Julie, Terra, Greg, Mandie and Shelly) who gave them eleven grandkids (not old enough for great grandchildren yet). This merger (his marriage and family) was the greatest move of his life. In 1991, he joined The Northmen out of Ft. Wayne, IN. He continued to sing with them until 2002 when he joined the Eastern Sky Quartet. In 2004 The Songsters and Eastern Sky Quartet made the first Southern Gospel Merger (that we are aware of). This united 2 strong groups so they could continue to see souls saved for the Lord.