Family Fun Zone...........Open
Children's Sessions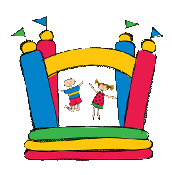 Saturday
• 1-3 Store of Jesus.
• 4-5 Worship our Wonderful God.
Sunday
• 10 to 12:30 The legend of the three tresses.
• 1 to 2:30 Gospel in a nut shell.
• 3:30 to 5 Jesus is my best friend.
Inflatibles
Crafts and Prizes
Bible stories
Puppet Skits
Parents must sign child in and out Matching Name tags, only parents with proper ID's will be able to pick up Children
Snacks
We our not a babysitting Service!
Lots more
Blessings
Three Days...Two Tents...One Voice
ONE VOICE MUSIC FESTIVAL
Labor Day Weekend, Fri • Sat • Sun

590 STEUBENVILLE PK., PARIS PA 15021
All rights reserved One Voice Music Festival ©2017
"Welcome" You're Visitor no.